I base most of my fashion sense on what doesn't itch.  ~Gilda Radner
My dear friend, Adrienne, at "The Rich Life (on a budget)" has recently tagged me to participate in the Fashion Challenge.  Guilty admission?  When I was reading her tres interesant answers to the Challenge, I was secretly thinking…please don't tag me for this one, please don't tag me for this one….and what do you know?  I was tagged.   It's not that I don't want to "play" or that I don't  feel "honored" that she thinks I have something worthwhile to say in the fashion department (hope I don't let you down, Adrienne : ) ).  It's just that I don't think of myself as a fashion forward type of woman.  I don't buy "Vogue", I don't read "In-Style".  I really have very little knowledge of trends and in-season styles/colors.  So with that prior knowledge of me, please read with patience and understanding.
1.  What International Brands would you like to try on and why?
Chanel and Dior—but the vintage lines.  I never tire of seeing styles from the 40s-60s by these designers.  I would like a working wardrobe of vintage Chanel suits and a perfect LBD.  From Dior I would love to be draped in evening dresses and ball-gowns circa 1950s.  Did I mention a Chanel 2.55 handbag?
2.  If you received something you didn't like what would you say to that person?
I would pull an Emmy worthy convincing Brenda Lee Johnson, "Thank you, thank you so much."  I would try very consciously to be grateful and nothing else.  There are only a couple of people I feel I could be completely honest with if I didn't like something he/she gave me: my husband and my cousin.  Maybe my mom–but not likely.
3.  Do you prefer giving or receiving?
GIVING!!  Love, love, LOVE giving gifts.  I have been told I have a gift for gifting.  One dear friend has tried to convince me to be a personal shopper as a vocation (but then it might not be as fun).  The funny thing is that I am not a shopper in the "let's spend the day at the mall"  type of way.  If I happen to be somewhere and see something that reminds me of someone dear, I get it and "surprise" them with it when ever  it is the right time.  I am trying to do more buying of usable goods or (better yet) experiences (passes to an exhibit; gift certificate to a Thai restaurant) for people.   I also think the best gifts are "just because I was thinking of you" gifts.
Of course this does not mean I do not enjoy receiving gifts.  My favorite "receiving gifts" are the same as the giving ones.
4.  Do brands influence you when you buy something?
Nope.  In fact I am anti-logo on my clothes, handbags, anything.  I will  buy and stay loyal to a brand if it fits me well, is a good price point for my budget and I will get a lot of wear out of it.  I have worked hard at minimizing my wardrobe so buying things for it need to meet certain criteria since it is going to be worn often.  And no matter how much I love a certain type/style/brand of handbag (or other type clothing/accessory), I will never buy a counterfeit and I have little patience for those who do.  That is a nasty little industry that does no one any good service.  Case in point: I absolutely adore the Chanel 2.55 black quilted handbag but do not foresee owning one for a very long time, if ever.  I will never by a fake Chanel.  But I will buy a similar styled purse by a well-known, lesser priced brand as I did with this:
5.  From 0-5, say what you think about the blog that tagged you.
Uh, hello!  A 5!!  I read her every day and I admire her devotion to her writing, to her family and her determination to live a "rich life".
6.  Your wish list?
If money were no object?  Let's start there.  The vintage Chanel wardrobe.
(photo credit)
   A couple vintage Dior gowns–one pink, one light blue. 
yes, please! (photo credit)
 The" perfect for me" Chanel LBD. 
(photo credit)
 A Diane von Furstenberg wrap dress.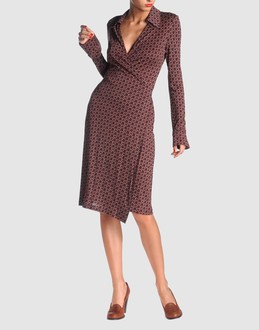 (the Hermes Trim would look great with this…photo credit)
 Oscar de la Renta true red, Mary Jane  peep-toe pumps. 
(photo credit) 
The Chanel 2.55 handbag in black.
(maybe color doesn't matter? photo credit)
A Roger Vivier "Miss Viv" handbag.
(photo credit)
  A Hermes Trim in Raisin (yes, AA, I covet yours).
  A few more Hermes Silk Twill 90cm scarves. 
Custom made bras.
And since money is a factor….my list:  nothing.  I truly have what I need.  It's always easy to want for more but I am learning to be happy with what I have and only buy what is needed–exception might be handbags.  I love the concept of capsule dressing and try to buy only what fits into that.  When something is bought, something else needs to go (I try to make it more than just one item).
My turn to tag four other lovely bloggers:
Gals, you don't have to play if you don't want but I would love to read your thoughts.